Rimel Neffati's photographs draw out the viewer's voyeuristic tendencies by mixing part boudoir, part film noir and part surrealism. The hazy telescope from which we view Neffati's collection of antique pin ups obscure our ability to truly understand the true identities of her subjects, so that you are left wondering: Who is that girl? Who took this photo? Where is this from?
You'd be surprised to know that this photographer has only been working in photography for three years and is self-taught. Raised in Rouen, a small town in Normandy, Neffati is now based out of Paris and is going to be showing her work for the first time at a photo festival this fall.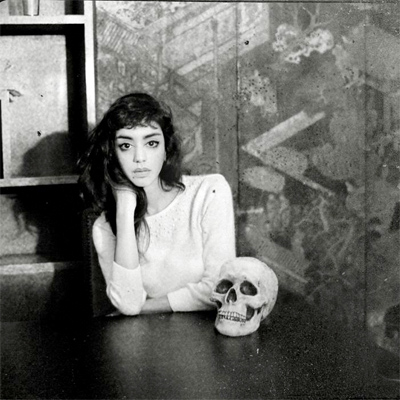 Do you have any photography secrets you can share?
No, seriously, I didn't feel there was a secret behind it or a method to follow; it's just like an intuition.
Do you have any life secrets you can share?
I'm on earth since very long time...
How old were you for your first kiss?
Ha ha ha, I really don't remember. Maybe it was 100 years ago.
A lot of your images have religious imagery - are you religious?
No, just curious, interested and a bit fascinated by the aestheticism of some religious things.
Do you have a favorite holiday?
The spring vacation? If it exists? Anyway, I love this season.
What time period do you think you belong in?
Middle Ages.
If you were forced to choose one: black and white or color?
Black. You can create so many things with black.
How many pairs of shoes do you own?
Oh, I must have fifteen, not more. I am reasonable.
How many pairs of sunglasses?
Just one, however I love collecting eyeglasses!
What is the inspiration behind your next series?
I don't know. I don't like [to] think [about] this in advance.
You can create
so many things
with black.