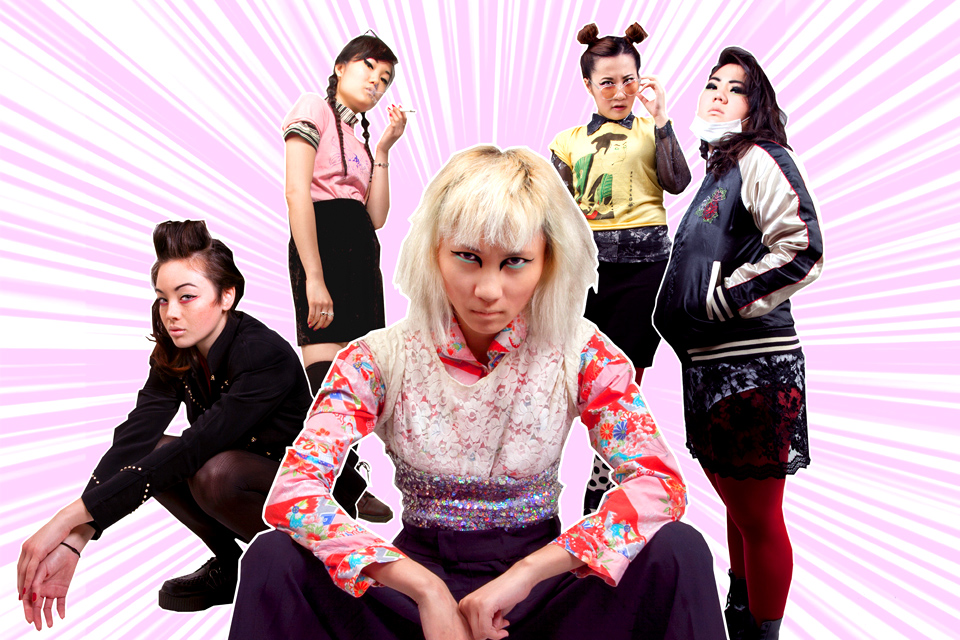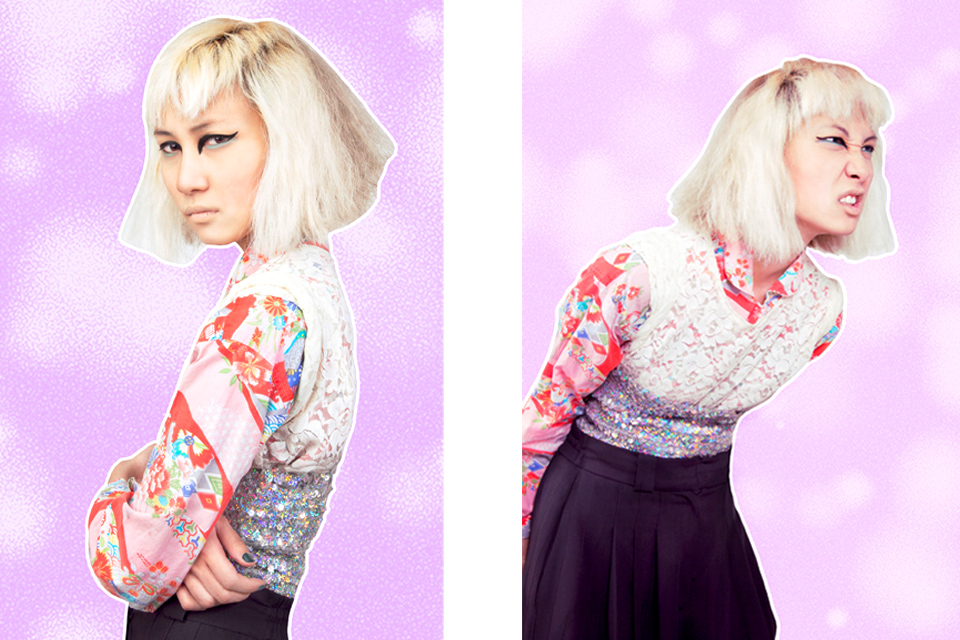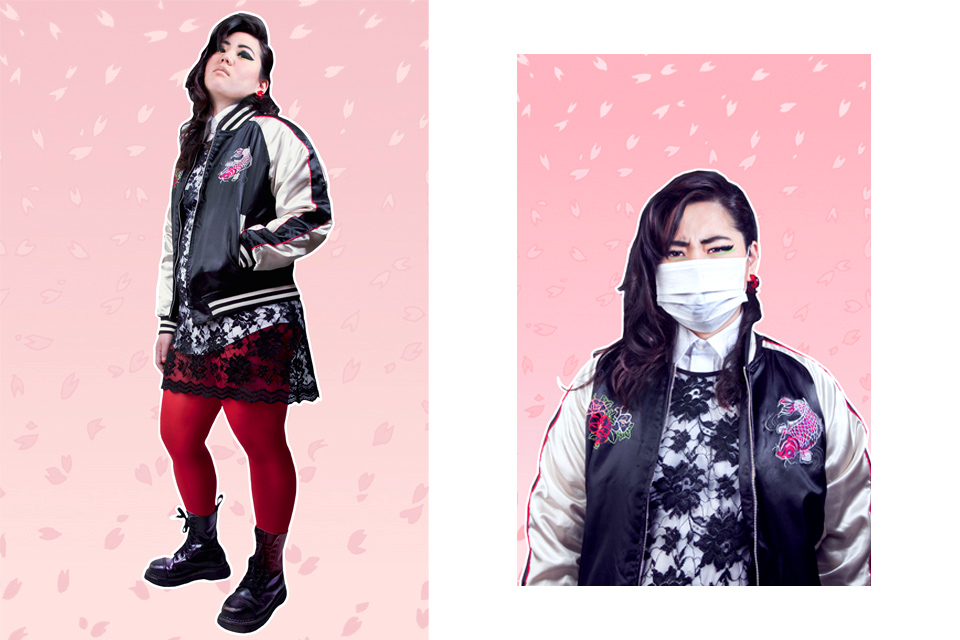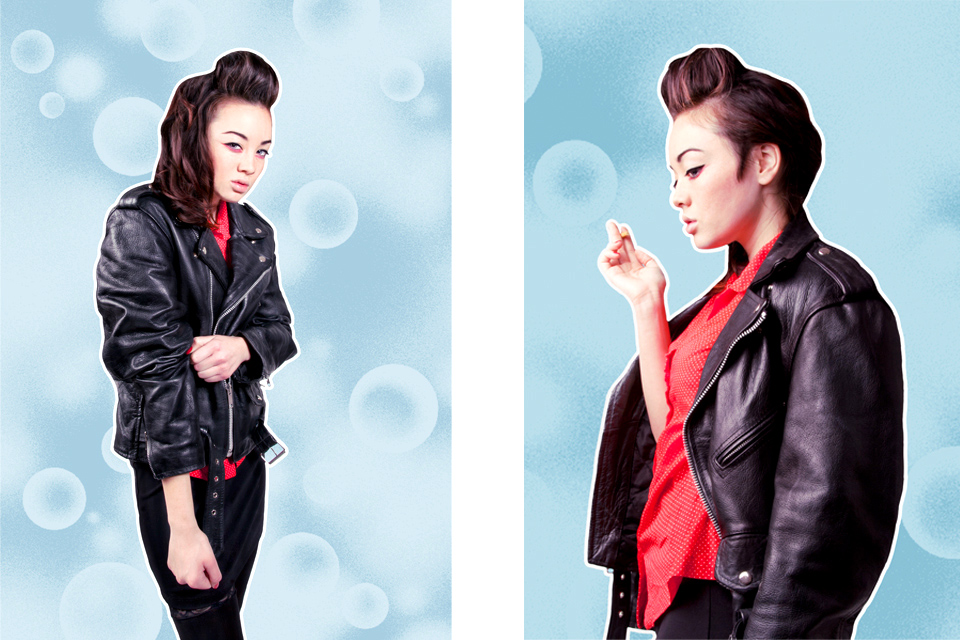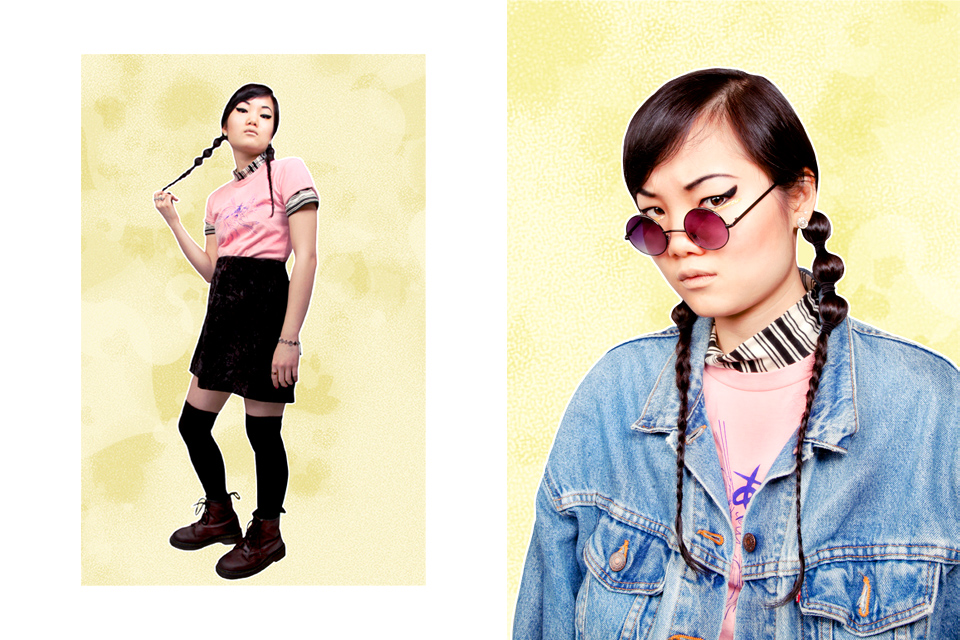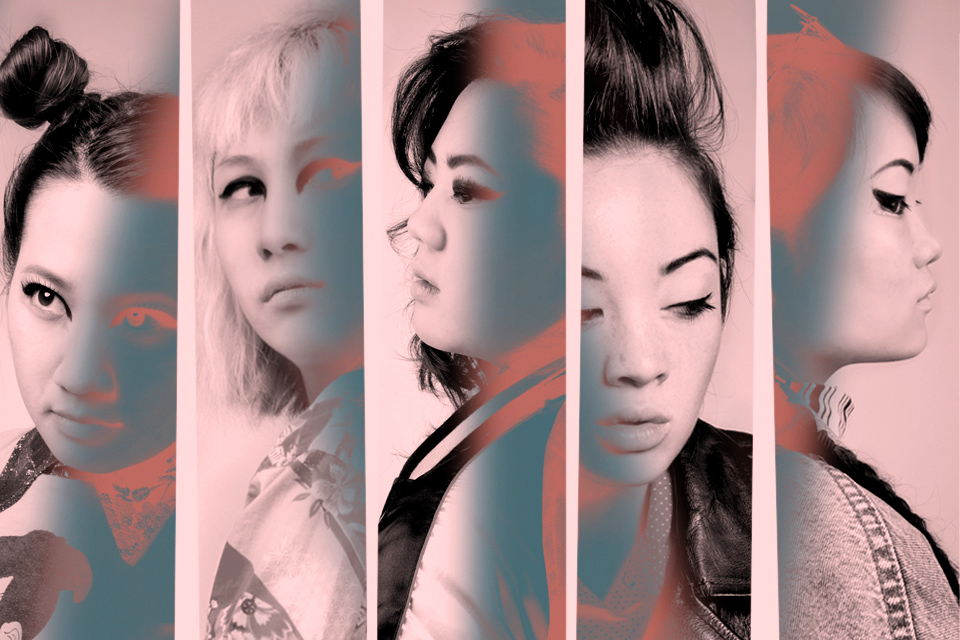 TAR + HONEY
Sent from space,
these sweet things will cut your face.
interview: Tiffany Tso
images: Kristin Wong
styling: Kristin Wong
hair and makeup: Sarah Early
models: Himeno Fujimiya, Jennifer Chen, Samantha Kim, Rikki Guerrero, Natalie Chi Mei Tse

A recent graduate from SCAD, Kristin Megumi Wong is an illustrator and photographer. Most of all though, Kristin is an auteur.
A photo shoot process for her usually includes styling and costume creation, doing make up or face painting, lighting, snapping the photos and post-process. This woman controls every decision from start to finish. And with good cause, because her works usually emanate her: her visions, her style and everything else that makes her one of the strangest, most creative human beings I've ever come across.
Because her latest shoot ended up being a portrait series featuring strong Asian ladies styled as if they were in a girl gang sent from an alien planet to castrate misbehaving men, I thought I'd ask focus in on Asian stereotypes and what about eastern culture inspires her.
What kind of learner are you: auditory, kinesthetic, visual?
Combination of kinesthetic and visual, probably why the language tapes ain't working.
Are you any good at math?
Pretty good at math until the alphabet and imaginary numbers came in. Don't ask to copy my math homework- not worth it.
Do you have any skills with musical instruments?
I used to play the piano and clarinet. I was pretty good with both NOT TO BRAG. My dream is to be able to play a string instrument.
Are you more of a Dragon Lady or a Lotus Blossom (because yes, Asian ladies have to fit into one or the other)? A dragon lady is an Asian woman who is cold and harsh, while a Lotus Blossom is all demure and submissive.
Ummm, I've never even heard of those terms haha. I honestly feel like I'm a bit of both. I feel like I'm pretty shy and quiet, or maybe when you first meet me. I would like to be perceived as a dragon lady, I suppose. So yeah, somewhere in between. You're totally a dragon lady. Dominatrix Tso.
Okay, enough of those questions. How have your travels to Japan inspired you?
Japan is just really different. especially compared to coming from a small town in Texas. There are so many interesting subcultures that have their distinct uniforms. They're so much more creative there. The ads, TV, fashion are just insane. My favorite is how they take inspiration from western culture and twist it into an extreme conceptual look. Like the gyaru, yamamba, punk, lolita... circle contacts, skin lightening, hair bleaching. Also I find the j-pop groups really interesting. I feel like the music and style of them are stuck in the 90s, while the rest of Japan is just leading the future of technology.
How about other countries?
I've also been really inspired by the Brits, mostly because I was raised with a mum that was and is still into music like The Clash, The Jam, Adam Ant, Madness, The Specials, Patrick Wolf, etc. I think I'm just really drawn to creative people. Also, I think I'm really into when people/things are visually grouped, or I guess any sort of subculture. Like after watching all of This Is England, I got really obsessive about skinheads & punks.
Start to finish, how long do your shoots usually last? What all do you do for them usually?
I started planning this shoot a few months ago. The shoot itself took about a weekend to do - it went much smoother, because I had a makeup artist to help me out. It took about a week to sort through images and do retouching. Usually, I work by myself and do all the makeup, style the models with clothes I gather from my closet, shoot, and retouch all the photos.
Where do you find most of your wardrobe pieces?
Most of my wardrobe pieces are from thrift stores and vintage shops. They're super cheap and have really unique pieces. The treasures that I find at secondhand stores are usually what inspire my concepts for shoots.
What is your favorite part of the photo shoot process (since you really do it all)?
My favorite part is when everything finally comes together. It's really satisfying when after all the long planning with makeup, models, clothes, lighting... It's really exciting when everything you visualized is becoming real.
What's on the horizon for you?
I just finished up with curating my first show "The Tiny Show" at Little Beasts Art Gallery. It was a really great turnout with some really fantastic work from a lovely group of artists. I'm really interested in doing some more gallery work, even though it was super stressful, it was really exciting. And I have some fun ideas for shows.
As for work I'm currently working on series of illustrations right now titled "Bromances." But that series might not be done for another month or so. I'm focusing on trying to get all my belongings (shit ton of clothes) packed up and ready for the move to New York! Pretty terrified but extremely excited.
I think I'm really into when people/things are visually grouped, or I guess any sort of subculture.