Austin is often dubbed the city for young people to retire or retreat from the real world. It's a lone star lotus land populated by a clan of slackers and a bunch of hipsters living the sweet life. If Austin and its slackers are the idle players, Tiffany Diane Tso is the outlier, the exception and the documentarian.
An ever-busy multi-media journalist, Tiffany has garnered experience and attention for and from multiple publications, including Nylon, Rare Magazine, The Horn and more. She styles, she models, she art directs, and she documents the sounds, artwork and eccentricities that make up all the funky characters she encounters. If something is happening in Austin, Tiffany is on the scene or she's interviewing the next big name involved in the event. By updating the world about Austin's happenings with her Nylon Daily newsletters, she boldly dismisses the notion that the slackers here are still slacking. They're not, and neither is she, clearly.
Tiffany's latest endeavor, Voyeur, started as an excuse to "look into the daily lives of people who interest" her. A self-proclaimed voyeur herself, Tiffany says she mainly just looks to include creative types who intrigue her. The guiding force in choosing her subjects is, simply but consistently, "because they are incredibly talented." The basic guidelines for the "7 days" portion of the Voyeur project are to provide the subject with one roll of film (a disposable camera) to be used in one week. The rules are few, and the subjects involved are, essentially, free to do whatever they want with the roll of film. Ideally, the content produced is unique and stimulating and then published for fellow voyeurs to peep. So far, the subjects featured have been Tiffany's friends from all over the country, but she says we can expect some upcoming sets from "a few pretty cool strangers that are working on cameras" for her. 
Next for the Voyeur site is the launching of the Spaces project. Of the project, she says, "I wanted to continue interviewing subjects, but this time focusing in on their personal space and possessions. Again, in my total voyeuristic nature, I just want to get into their home and figure out how it reflects on them as a person."
Since Tiffany focuses so much on peering into the lives of others, I thought it might be interesting to turn the tables. She exposes how people's daily lives reflect their personal styles, their spaces and their creative principles, so I wanted to sample her own sense of aesthetics and her innovative sensibilities.
Although she is undoubtedly an authority on all-things-about-to-be-hip, it's her casual and effortless demeanor that is most striking. In the questions that follow, I wanted to explore the sources of Tiffany's creative confidence.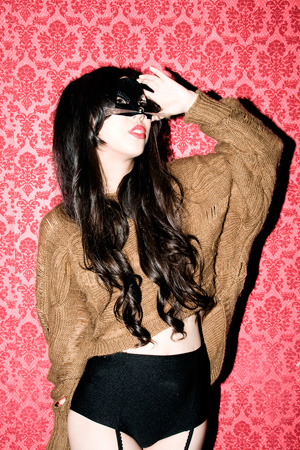 How would you describe your personal style?
I think of it as extreme without being alienating. I like to play around with different styles of dressing without ever really committing to one style too much. The only style I consistently stick with is laid-back - denim with band tees, tanks and crop tops.
Do you have any specific style rules that you live by?
I would never wear flip-flops, crocs or those Vibram toe shoes.  And don't ever buy into trends unless it's actually something you're into.  But honestly, I don't think there should be too many 'style rules.' That sounds too restricting. We should just all wear whatever we want as long as it isn't assaulting to other people's senses.
What is the best part of your multiple jobs?
I'm never bored with work, there's always something new and interesting on the horizon.
Do you have any favorite photos or subjects from the Voyeur sets so far?
All of them, since I chose all of them. However, if I must name a few... I really dug Ariel Bender's image set, because he actually composed some images just for the site. Though he isn't a professional photographer, he has a really keen eye for aesthetics. Everything he does always looks really sharp.
Also, the latest feature Katie Schultz is so colorful. It makes me think my life is a little dull or something. 
Favorite music these days? 
I'm digging DIIV (formerly Dive) these days. Grimes, of course. Tashaki Miyaki. And I'm always playing Patsy Cline and Bleeding Knees Club in my car, because that's what is in the tape deck and CD player, respectively. 
Icons or Idols? 
Marilyn Manson, John Waters, Bjork.
Where do you go for inspiration?
Films, music, other's people's art essentially, but there is also something very inspirational about life, past experiences, the shared human experience and history. Maybe that's why I ask so many questions.
+ Voyeur
+ Tiffany Diane website
+ More photos from the shoot