Australian recording artist Wally De Backer, otherwise known as Gotye, found starkraving productions when looking for somebody to produce a video for his single "Somebody That I Used To Know." He sent starkraving founder Natasha Pincus his song. She gave it a listen and conceptualized a music video to accompany. The concept of a breakup expressed through a painting was formed, Gotye agreed, and production began. 
The video was shot in three days (the third of which they shot for 26 hours straight), produced in three months and become one of YouTubes most played videos quickly, racking up hundreds of millions of views. With the help of cinematographer and stop motion videographer Warwick Field, her partner, Pincus has created a pretty helping of masterful music videos.
In her own words, Pincus says she is "really standing strong for the craft of the music video, so that it returns to be a place for art," rather than just pop culture and product placement. She has produced videos for Australian musicians End of Fashion, Lior, much more and most recently Missy Higgins. 
Because painting is such a big part of the famous Gotye video, who is your favorite painter?
That is very tough. I could never pick one favorite. Picasso and Van Gogh are two artists who painted many of my all time most-cherished pieces. In Australia, there is an artist/poet/writer/commentator/wizard-of-all-things – Michael Leunig. I adore and admire his work absolutely.
Do you have a personal favorite of your own projects? 
No, favorites are no good for me. Each is like a fixed body part on me now. I do have difficulty watching any of my videos with any kind of objectivity but feel proud and pained by each one in equal measure.
What is your favorite part of the filmmaking process?
Here's a favorite that's easier for me to define – the start. And also the end. A terrible truth but an honest one – I wish I could be so enlightened as to say the middle bit where the execution of the concept happens, the journey, the trials and all the tribulations, but I kind of hate all of that process. It is inelegant and exhausting. The start is wonderful, because there are still so many possibilities, and ideas come to me vividly and with insistence. The end is also a great time because, well, maybe because it marks a new beginning. It's the moment just before you release your baby out into the wide world. 
Where do you usually start when looking for inspiration?
I don't think you can ever look for inspiration. Once you start doing that, you kinda kill the chance of it happening.
Is there a song/band/musician that you are just dying to create a video for?
This is an issue I have wrestled with. It's a bit like deciding whether or not you should meet your favorite actor backstage after seeing them in a show. Should we ever meet our heroes? Let alone work alongside them? The opportunity is a real privilege and one I have already been lucky enough to enjoy in my career, but it also comes at a cost, because it changes your experience of the artist's music forever after. The illusion is broken; you can never be just a fan again. What you get in exchange is fantastic though – you get to hang out with the musician and be their mate instead! So, I'm not completely sure. Maybe.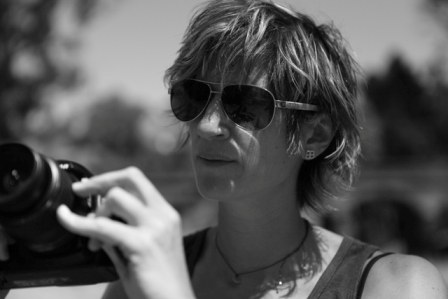 Do you find yourself favoring Australian artists?
Not at all. I actually have very little awareness of an artists' nationality (or often even their name) when I listen to their music. I don't think it matters at all. I have been intrigued by the nationality debate that often erupts up on YouTube comments from time to time re Gotye's nationality. Wally was born in Belgium but has lived in Australia since he was 2-years-old. But so many commenters on YouTube feel the urge to spend their energy and words to argue over which country he properly 'belongs' to. It baffles me. Who cares?
Who are some other Australian artists you have on your radar lately? 
I cannot stop listening to Matt Corby. I am a long-time fan of Missy Higgins and have been working with her recently on a music video, her first for a number of years. It has been a true privilege; Missy is such a special talent and an all round wonderful human.
How do you like to spend your downtime?
Outside. Sunshine. Beach. Exhale. Simple. Otherwise, most things that involve hanging out with dogs pretty much makes my day.
Are you more of an introvert or an extrovert?
Introvert, but when I get giggling, or stimulated by a great conversation, it swings pretty fast the other way.  
Do you have any other hidden talents?
Yes, a few. I can make a pigeon-like warble that sounds very much like the real thing, but interestingly I can only summon it when I am feeling truly content. I also have excruciatingly long arms. But I guess that's not really a talent, just a genetic practical joke.