Matthew Frost has an affinity for whimsy. Whether it's self-publishing a picture book on pet cemeteries or narrating model Ashley Smith in a semi-fashion-satire video promo for Jalouse magazine, Matthew approaches his work with a sense of humor and light-heartedness, a possible side effect of actually enjoying one's work. "Try to stay out of a 9-5. It's important to try to figure it out and be poor, and to struggle, but figure out what you want to do," Matthew tries to explain his ideology. "There's an element of risk to it."
With clients under his belt like Louis Vuitton, Vice, Jalouse and M83, and working with director Larry Clark on Wassup Rockers, Matthew's career in film and photography is no joke. When he isn't jet-setting around the globe (Matthew was born in London, raised French, relocated to LA but now based in New York) on assignments, he's working on a variety of personal projects including Little People In Fur Coats his pet cemetery zine and writing a screenplay.
Somewhere between all of this, Matthew fit in an interview with Bleach, told us his life story, gave gems of knowledge like "fashion is retarded, but we like it," and apologized for rambling at least twice. Because he is just that cool of a dude.
Okay, so my friend Jacqueline wants to know: What are some of your favorite films, visually?
It's always hard not to come off as a ding dong saying you like "Antonioni's l'Avventura" or something. With blog culture, everything is so there and classic images get thrown around so much (Goddard, Truffaut). Then you try and go deeper and get all arts-y with more obscure stuff. I always feel so silly making a list; I always make fun of people who do! F it though, right? 
Here's a random selecsh: Fish Tank, A Prophet, The Descendants, Greenberg, Declaration of War.
I just saw The Girl with the Dragon Tattoo on the plane, that was good. But I think every movie is better on the plane. Right?
Right, no distractions. What model was your first camera?
An old Minolta SLR with a 50mm. Standard photo 101 stuff. Now I'm looking for one just like it.
What equipment are you mostly working with now?
Well I work in film and photo, so I'm all over the place. I've never been a equipment tech-y guy. I like to keep it simple. I shot with the some big Panavision 35mm packages. That was fun, felt so movie-y. Super 16mm Arri is a good compromise of film and great optics in a relatively light camera. Great for hand-held loose stuff. I have a special fondness for the Canon Scoopic 16mm that I own. I can just go off and shoot film stuff on my own with a nice fixed lens on it. All my M83 vids where shot on it. 
Recently, it's been the Alexa HD cam. That's really great. 
For stills, I like my Contax G2, T3, Pola 600SE, I have an old Canon SLR with a crazy blurry lens, too. Digital: 5D is great, but I don't like using it outside daylight. It still looks like shit!
Who would you really like to shoot some day? (Dream big!)
You! And maybe Zinedine Zidane. 
Um, you can shoot me anytime, Matthew Frost. Now, tell me about the weirdest encounter you've had on the job.
A model started crying of cold once in this "Ice Hotel" made out of ice. Working with Larry Clark for a couple years (Wassup Rockers) was a nice blend of normal meets weird.
Paz de la Huerta greeted me with not much on before a shoot once. I got shat on the head by a large bird in the middle of a shot once, too. I remember a commercial in Romania where it had to rain fake money. People where freaking out. I don't know. It's all pretty weird!  
What is a typical week like for you?
These weeks have been very busy, but it cools down, too. I like the different rhythms I'm able to go through. I allows me to work on other things when I'm doing less commissioned stuff.
Right now I'm in a casting with about 100 models, mostly dudes, for a French clothing company. It gets pretty random!
Where do you find yourself in your time off?
During time off, I'm usually trying to write something clever, but usually I try to watch as much football (soccer) as I can (soap opera for dudes)! Arsenal, AS Monaco, France are my teams. Lakers, too. Keep me off the streets.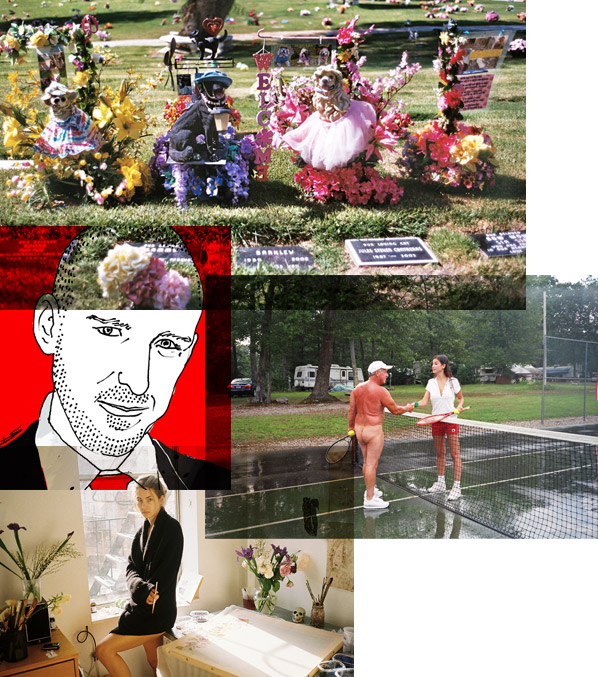 What are some current passion projects you are working on?
I make a small booklet-zine called Little People In Fur Coats about the pet cemeteries that I've visited. It's doing the rounds and is available in several awesome stores around the world. Can't wait to do the next one!
How did Little People in Fur Coats begin to be?
I first went to a pet cemetery for the M83 vid "Graveyard Girl". I shot it around LA but never took any pictures. I went back a couple years later, and I started looking for them wherever I was after that. My friend Laurent Fetis helped me put it together. 
Do you have any pets of your own?
Not right now, I travel too much, but there is a dog named Noisette I'm pretty fond off. She lives in Paris. I used her for some of the book's promo materials you can see on my site.
And because of your incredible cult editorial, if you were going to join a cult, which one would it be?
I already have a cult. It's very secret and I'm the only member. I can't say much about it...
What can we expect from you in the near future? The far future?
Hopefully more narrative projects. Films, real ones with lots of people talking shit! 
"I remember a commercial in Romania where it had to rain fake money. People where freaking out."