GAL PALS
Swirling and Shockingly Loud
Tornado of Passion
interview: Annar Veröld
image: Ben Prentice

Rock duo Gal Pals, composed of Lauren Mikus and Jillian Talley (Cowabunga Babes), sound of spunk, of yellow-filtered memories, and the desperate need of an attitude adjustment. After meeting during a merger between vintage stores (Prototype and La Luz) and discovering each other's music and fashion tastes, their pop-rock garage sound established itself sometime between April and Nov 2011. During that time, the duo experimented with cover songs that later helped mold their style.
"Then one time, we got really drunk in our practice room, and we started writing our first song, 'Gold Rush'," said Jill. "After that, we decided to do it again, and again, and again."
Since November, Gal Pals has released a four-track demo featuring "Do You Ever?", "Dumbhead", "For My Sake", and "Goldrush" and since then have been thirsty for more.
Your style has an upbeat pop-rock garage sound. Where do the ideas for your tracks come from?
Jill: There are definitely some influences that stand out—Dolly Mixture, The Marvelettes, early Beatles. Our influences are a lot of British '80s punk groups mixed with '60's girl groups.
Lauren: We found songs we liked and played them in our style. When we started out, it was more like playing music and hanging out. There wasn't any goal to make a band at all.
Jill: My friend Clark burned me a Dolly Mixture CD, and it changed my perception on how I can make music. Then I gave it to Lauren. She was also affected by it.
Would you say that your personal fashion style is a good reflection of your pop-rock/garage sound?
Lauren: We both like to put together all of those pieces that aren't supposed to be together and make it into something.
Jill: In the same way that we take a '60s beat with '80s vocals and '90s guitar, that's what our outfit is like too. It is like a visual, audible, representation of us.
Lauren: (laughs) A swirling and shockingly loud tornado of passion.
Can you tell me a little about the recording process for your demos?
Jill: We worked with Austin Leonard Jones. He has a little studio called Corpus Christi Studios. His friend Will Patterson helped engineer and mix the demos.
Lauren: They are friends of ours, so that's that. They were setting up their studio and wanted to bring people in and familiarize themselves.
Jill: We were their crash-test dummies.
Lauren: We did two songs a day and one mix day, five days. We played the drums and guitar together at the same time.
Jill: It was all analog and then edited digitally. Where you hear me talking and Lauren laughing, that is because it was on a tape. That's why it sounds grainy and organic.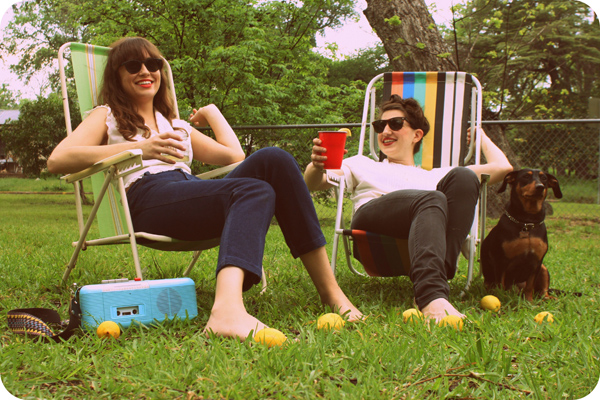 If you two could share the stage with any artist, dead or alive, who would it be?
Lauren: Axl Rose, and Mariah Carey. Supergroup - imagine the four part harmonies.
As a rock-duo, what are some struggles you have come across as a female-fronted band?
Lauren: We've both been in other bands; Jill was in a band where she wrote stuff too.
Jill: When you're in a five-piece band, you have 20% of the responsibility for how the show goes. Also, only 20% of the eyes are on you. With us, as a two piece, we have 50% more pressure on our shoulders.
Lauren: That's why we got the light brights. They get 10% of the attention.
Jill: Being a female has absolutely nothing to do with anything. The struggle is being a two-piece. If I mess up in a two piece, you can tell.
What are your plans for the rest of 2012?
Jill: We're open and looking for tour mates. We're hungry to play. We're hungry to go on tour. We're not ready to go off into the world alone. Currently, we are recording with Elliot Frazier (Ringo Deathstarr) right now. We want to record. We want to tour. We want to play. We are ready to go.
Lauren: And more writing.
Jill: And more hanging out, because we like each other.
We both like to put together all of those pieces that aren't supposed to be together and make it into something.